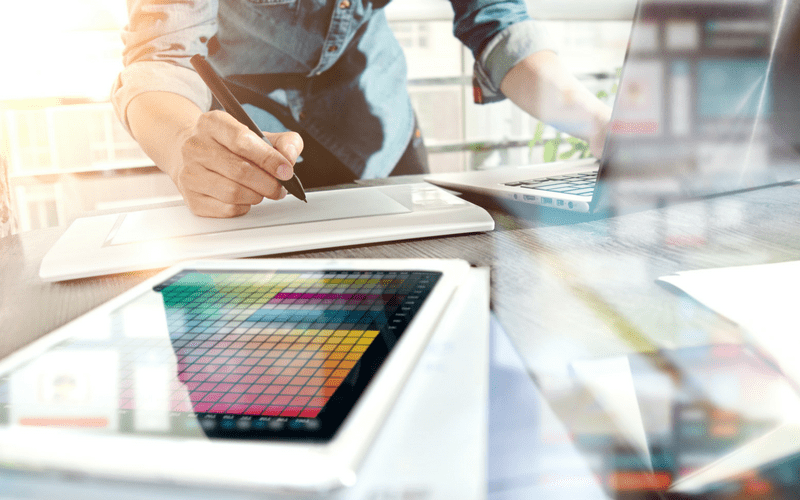 Here at Stellar Platforms, where we work with the Rising Stars of Tomorrow, we like to make things look beautiful with professional graphic design.
You can tell at a glance when someone has professional graphic design, and when they don't. It can attract or repel you from a brand, with a glance.
Cohesive graphic design is essential when you have multiple media channels, and many different ways to present your media online. Aligning all of your brand assets with a curated branding styleguide is one of the best practices we recommend.
Professional Graphic Design & Logo design
The most powerful visual representation of your brand is your logo. Your logo is everything you do and everything you are, all distilled down into one symbol.
Getting the logo right can make the difference between a long-term business and a short-lived one.
Multiple logos under the same branding umbrella require special considerations, and placing this logo in the right locations – on your shareable media, in watermarks, and in your premium content – takes finesse.
Our logo design process is a 3-revision cycle. After filling out our intake form, we provide 3 possible directions for the logo to go – 3 distinct logo comps. After describing what you like and dislike with each of these, we will select one direction and go through 2 subsequent rounds of revision.
All logos are delivered in standard filetypes, with a complete branding styleguide.
Social media shareable image design
The most effective way to elevate your brand presence on social media is to create custom designed shareable images.
We can select 30 of your favorite quotes, or quotes relevant to your brand or mission, and make uniquely designed images formatted for the sizes of the platforms they will be shared upon.
With your logo and website discreetly (but visibly) placed on the image, it will be clear to all who share these quotes who is thinking about these thoughts.
Facebook Ad, Google Ad, & Affiliate Ad design
When you have a product launch to promote, or a sales funnel to fill, a standard suite of advertising images can get you started in an Adwords campaign. Our advertising images are customized to create impact, get seen, and get clicked. We use the finest stock photography libraries and professional copywriting to create compelling advertising images that get clicked.
Print collateral – brochures, book layout, postcards
We have access to the best graphic design programs on the market – Adobe InDesign, Photoshop, and Illustrator. We can make your files printer-ready, with all the right bleeds at 300 dpi.
"Caelan is one of a kind. He has an amazingly active mind and is always putting it to good use. I hired him for a project that had a fairly ridiculous deadline, and he came through like a champ! We had one creative meeting where I explained what I was after, and he had mock ups ready to go within a day or so. The end result was better than I had expected, and we came in exactly on budget."