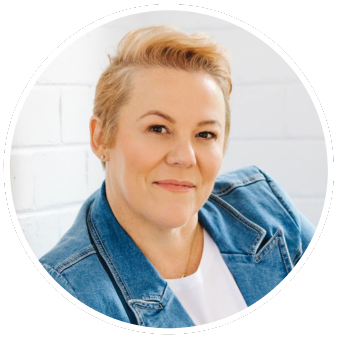 Rebecca Houghton
BoldHR®
"Caelan and his team helped us take BoldHR to the next level, with a complex and ambitious marketing program – a new website, digital membership platform, learning management, digital marketing strategy, and online assessment tools."

Membership Community with
Lead Generation Funnels
Mighty Networks membership community with multiple pricing tiers
Intake quiz delivering 6 different outcomes based on score
Email automations for different market segments
WordPress website redesign and copywriting
Rebecca Houghton wanted to position her community as the premium resource for B-Suite Leaders – the modern middle manager. But her website was built on WordPress.com, her team had a hard time making it work, and there was not enough technical aptitude to create a membership experience that was smooth and easy. The business couldn't get any bigger because of capacity constraints, so they could not sell more, grow, or scale within their existing systems. BoldHR® contracted Stellar Platforms to undertake an ambitious overhaul of the BoldHR® digital infrastructure:
A new website design,

email automations for new subscribers,

an intake quiz as a lead magnet, and

a new membership site.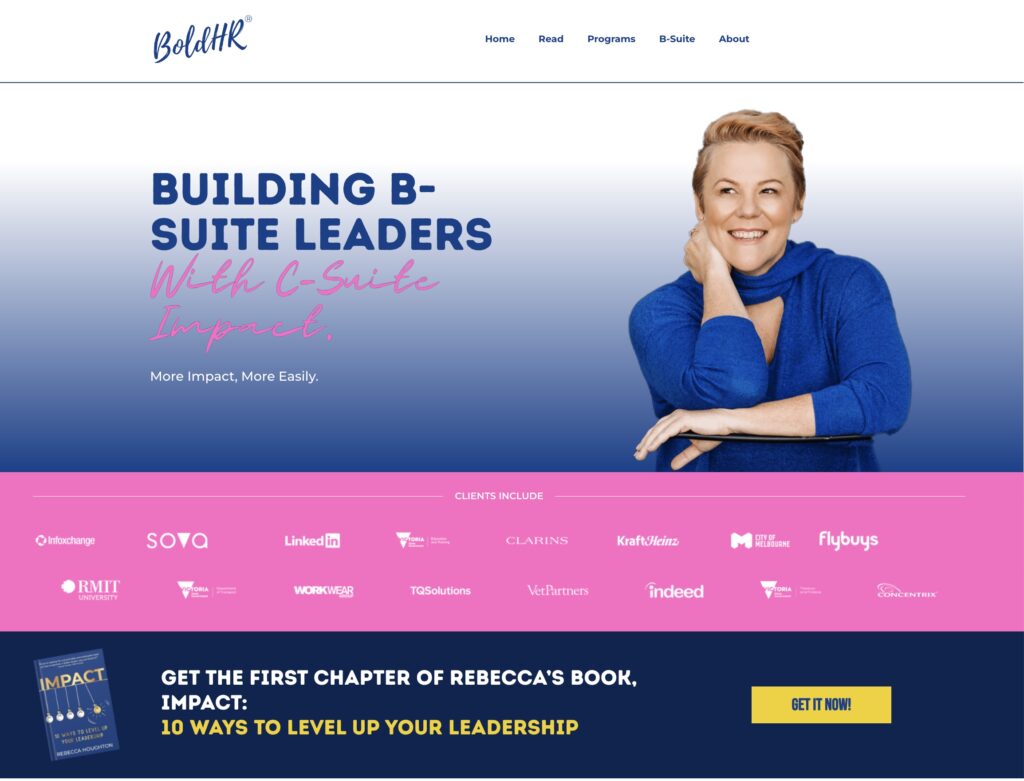 The B-Suite Benchmarks™ SNAPSHOT was built using Gravity Forms, a sophisticated form plugin that allowed us to display a different page after completion of the quiz, based on the final score. This data was passed to Zoho CRM using Zapier, and triggered a dedicated email automation sequence that was copywritten by Creative Director Caelan Huntress in Rebecca's voice. We also helped her scale her marketing with email automation. With multiple series delivered to multiple segments of her list, new subscribers are nurtured without any additional work from Rebecca or her team.
Here are the subject lines of 3 parallel automations, which were copywritten, designed, and set up to deliver in Zoho Campaigns: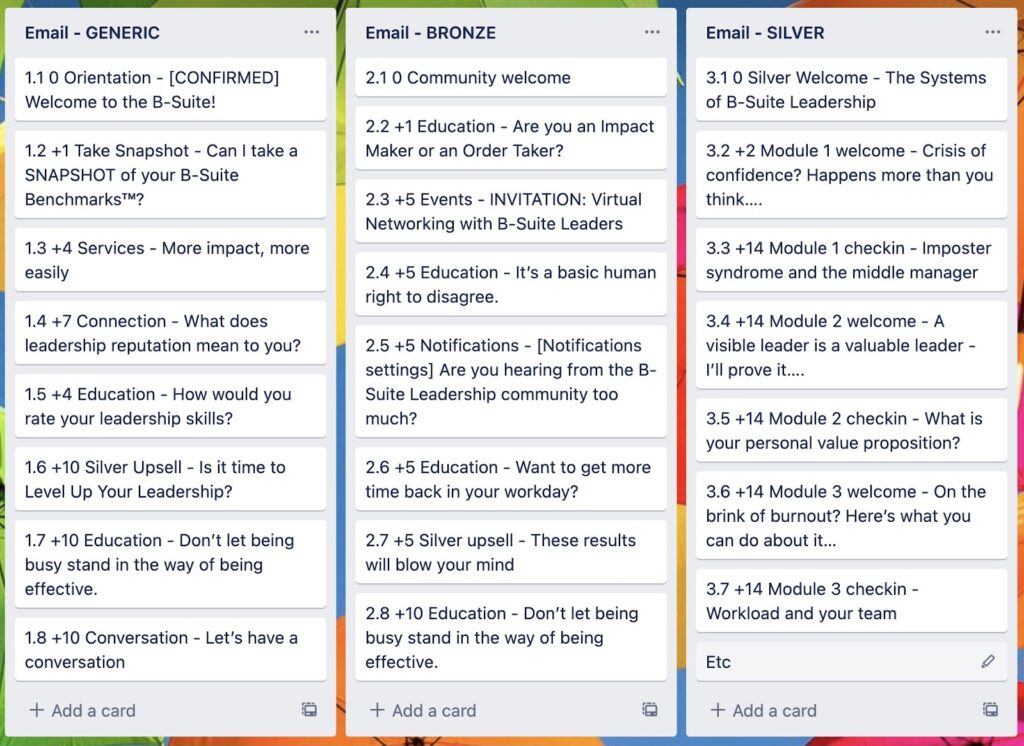 For the membership area, we made test accounts on Mighty Networks and Circle, to audit the capabilities of each. After writing up a report detailing the advantages and disadvantages of each option, and making recommendations to the client, we chose Mighty Networks and designed the experience in alignment with the BoldHR® branding. Rebecca took the opportunity to redesign her group program's curriculum, while Stellar Platforms laid out the new video lessons and PDF workbooks in a series of pleasing, eye-catching modules. Then we set up payment plans for each of the membership levels, integrating Stripe and Zoho with Zapier, for a complete holistic system. We finished the work by creating dozens of SOPs for her team to handle the back-end infrastructure, so they could continue to run the business functions independently.
Now the team has more operational capacity, the quality of Rebecca's coaching has improved, and the level of engagement in her group coaching program is much higher.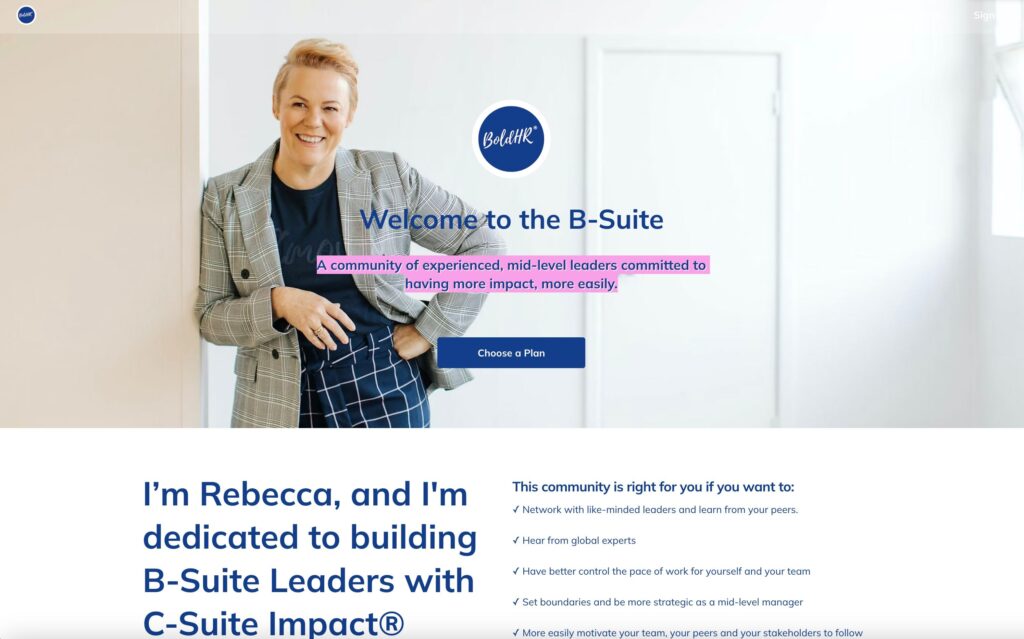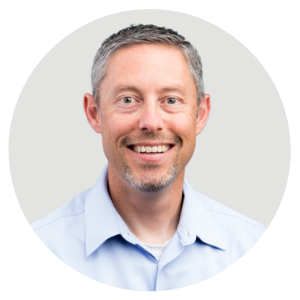 Dave Reed
Owner, eSpeakers
"Caelan produced a series of videos that walked our users through specific features of our platform. The videos turned out well and Caelan was a pleasure to work with: super organized and very transparent in the process."

Video Tutorial Production for SaaS
Step-by-step screencast tutorials
Guiding new customers on using the product
Scriptwriting, recording, editing, and upload
eSpeakers is a SaaS company that provides an online directory for meeting planners and conference organizers who are looking for professional speakers for their events. As one of the most popular and frequently used speaker directories in the United States, eSpeakers has added many features to their software platform that professional speakers use to grow and organize their business.
Unfortunately, many speakers can have a hard time navigating the software. Speakers are generally a charismatic bunch, great with people, but may not have advanced technical aptitude. Even though eSpeakers provides a detailed knowledge base with hundreds of articles, their users were not adequately educated on how to use their membership. When users aren't using paid membership software, it's more likely they will cancel. Onboarding new users into the platforms, and educating existing users about new features, required a medium that makes speakers feel more familiar: video.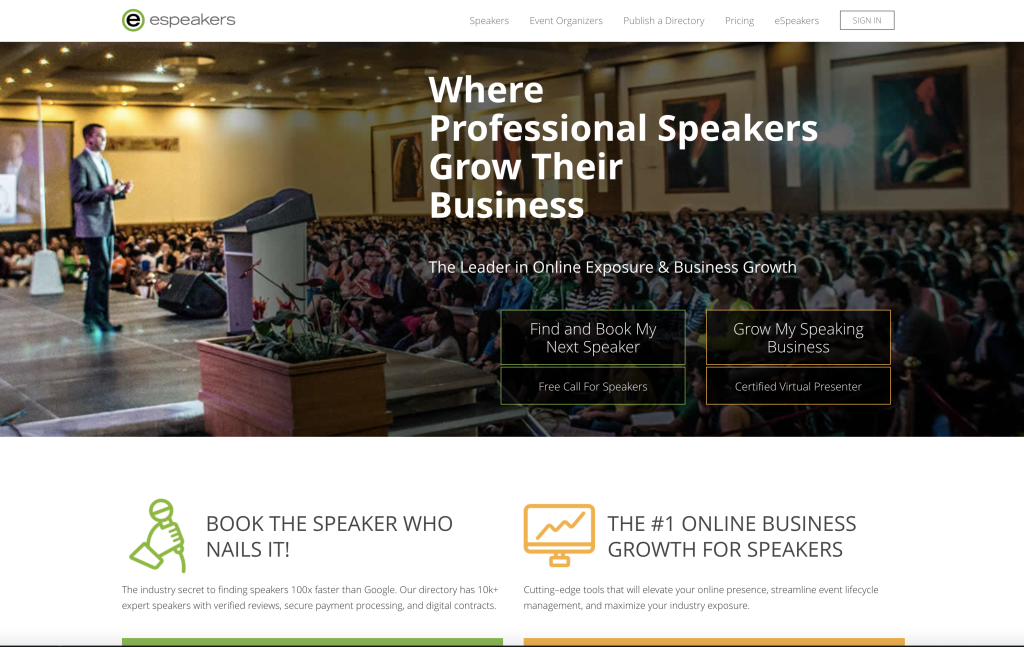 eSpeakers hired Stellar Platforms to produce a series of short, engaging instructional videos to educate their user base on how to use their membership effectively. These videos were created exclusively with eSpeakers branding, colors, and logos, and they had oversight of the entire revision process. As a scriptwriter, video producer, and professional virtual speaker himself, Creative Director Caelan Huntress was able to produce a series of high-quality videos, from script writing to upload.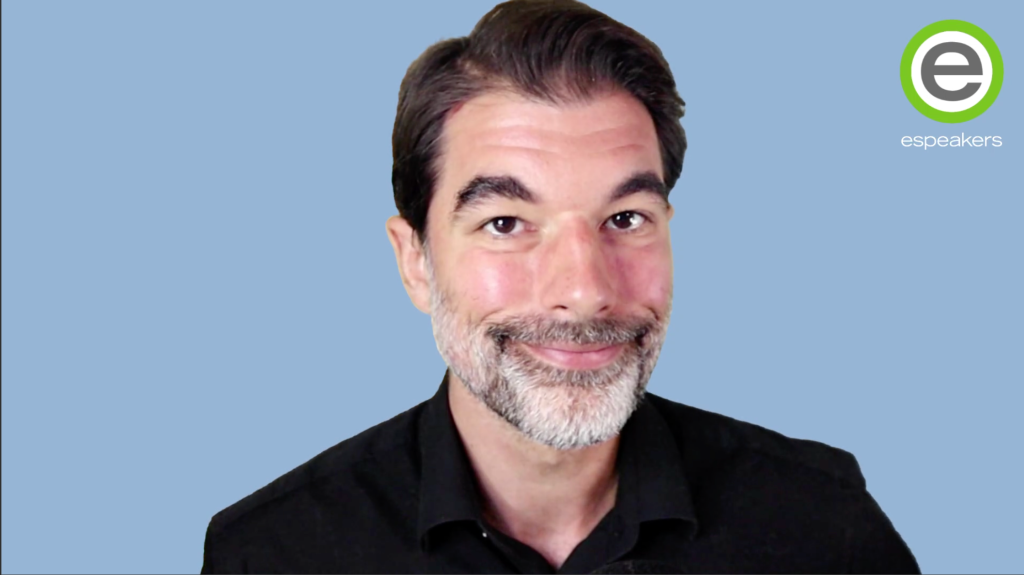 By using the project management tool Trello, and collecting iterative video feedback in Wipster, Caelan was able to give the eSpeakers leadership team a direct hand in the voice, the content, the look, and the feel of the videos. By first producing a full script in Google Docs, Caelan was able to incorporated the notes and the feedback of eSpeakers team into the content of the produced videos. By providing multiple revisions, Caelan was able to add content and modify B-roll and text overlays to make sure that these videos were perfect. In the end, 22 videos totalling 90 minutes of runtime were uploaded into the playlists on the eSpeakers YouTube channel.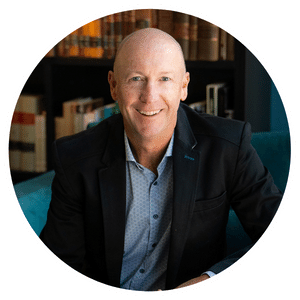 Bryan Whitefield
Risk Management Consultant
"Working with Caelan has been just fantastic. We're finally at the position where we can unleash the power of our CRM, and the hard work we've put into the content will pay back in spades. In all the conversations I've had with Caelan, it's obvious he's a cut above anyone else I've ever talked to about automated marketing."
Marketing automation audit & upgrade
WordPress website optimization and intake form replacement
Testing and revision of lead magnet funnel and whitepaper delivery
InfusionSoft audit and review, implementation of Lead Scoring
Automation of task assignment to team members based on pipeline activity
Bryan Whitefield is a management consultant who specialises in risk-based decision making. With many of Australia's leading companies and powerful government agencies as clients, he has been running a black belt practice with a small team. They recently redesigned his WordPress website, and were having trouble integrating their InfusionSoft installation.
After the WordPress website redesign, the website was still receiving dozens of spam entries per week, and the sitespeed was slow. Blog posts were not displaying as they should, and there were multiple broken links.
Bryan and his team had been using InfusionSoft for many years, but only at a superficial level. They had collected data on who had attended Bryan's workshops in the past, but they were unable to use this data intelligently as part of the CRM.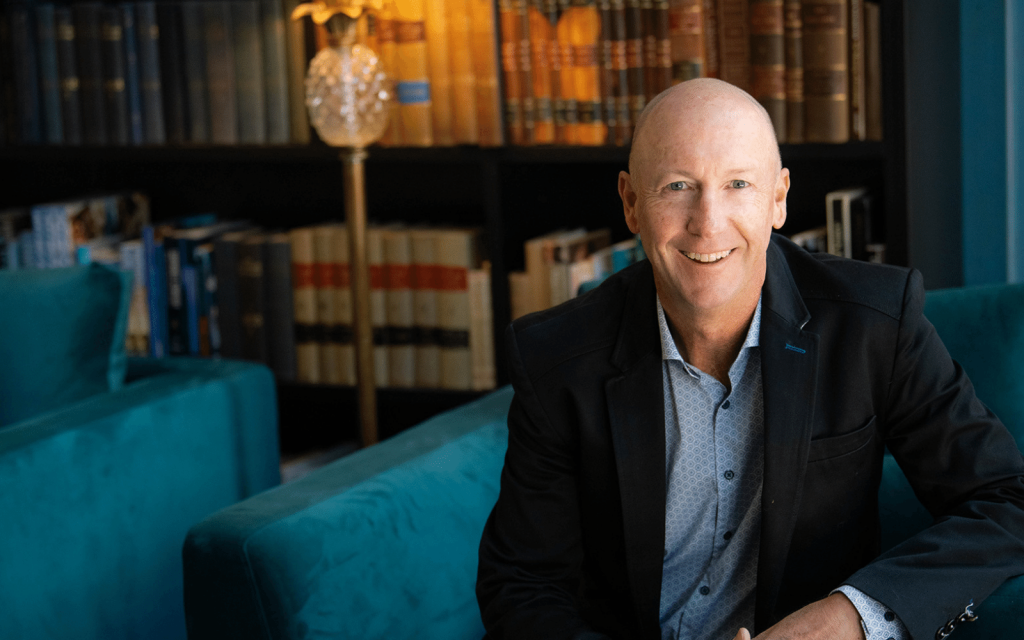 Stellar Platforms was hired to do an audit of Bryan's systems, including his WordPress website and his InfusionSoft (now Keap) account. We quickly identified many areas for improvement, and set up a project management system in Trello to review these items with his team.
Through weekly marketing meetings with Bryan's marketing manager, Wendy Dias, and his executive assistant, Paula Rival, Caelan was able to provide insight and perspective before implementing a potential fix. This enabled Bryan's team to review any potential changes, ask questions, and provide crucial context before a recommended change was executed.
The project plan included:
Sitespeed enhancements to the WordPress website
Homepage website design review and revision
Evergreen redirect strategy to use universal links for whitepapers
Simplification and templatization of commonly used elements
Email deliverability audit
Server fixes to improve deliverability
New InfusionSoft template that was mobile responsive
Automation from newsletter and website activity to Flame Scores in Infusionsoft
Setup of pipeline automation tasks for team

Bryan's WordPress website now has improved loading time and no spam. We replaced the contact forms with Gravity Forms, a premium WP plugin, and integrated it with InfusionSoft using Zapier. new pages were created and designed for lead magnet subscription and delivery, with step-by-step tutorials provided for Bryan's team to replicate in the future.
Using InfusionSoft's Lead Scoring function, we created Flame Scores for Bryan's database. After submitting an inquiry form on Bryan's website, InfusionSoft scored these new contacts and automatically assigned tasks to Wendy and Paula. Based on their interactions with the automated systems, their score would change over time, giving Bryan the ability to immediately see the highest-potential customers in one list when he was ready to enter the Boiler Room and start selling.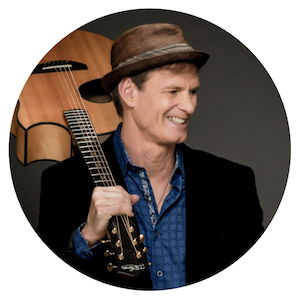 Mike Rayburn
Hall of Fame motivational keynote speaker, comedian, musician
"I highly recommend Caelan Huntress. He knows every aspect of this business. Working with Caelan has been absolutely fantastic. He is incurably positive, always uptempo, always having a great day, and I cannot recommend him highly enough."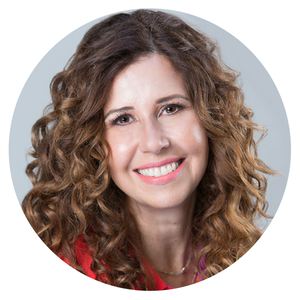 Lisa Garr
Host of The Aware Show
"Caelan has a great way of taking your vision and making it a reality. He works really well with visionaries – I speak it, and he makes it happen! His website design for The Aware Show really captured my personality, and his project management skills kept my entire team on track. The beautiful summits he put together helped us to grow our list and expand our audience. Caelan is always positive and keeps a positive outlook on life!"

Membership Website with eCommerce Shopping Cart
Membership website cross-selling hundreds of information products
Secure mp3 file storage for 3000 episodes of audio interviews
Content displayed based on user's membership level access
As the host of the Aware Show, Lisa Garr has interviewed thousands of best-selling authors on her nationally syndicated radio show over the past 15 years. Her library of 3,000 audio interviews was augmented by here regular production of interview tele-summits, adding hundreds of video interviews into her library. Making content was not a problem for Lisa – she was trying to find a way to keep everything organized and easy to find for her customers.
The Aware Show Website – Before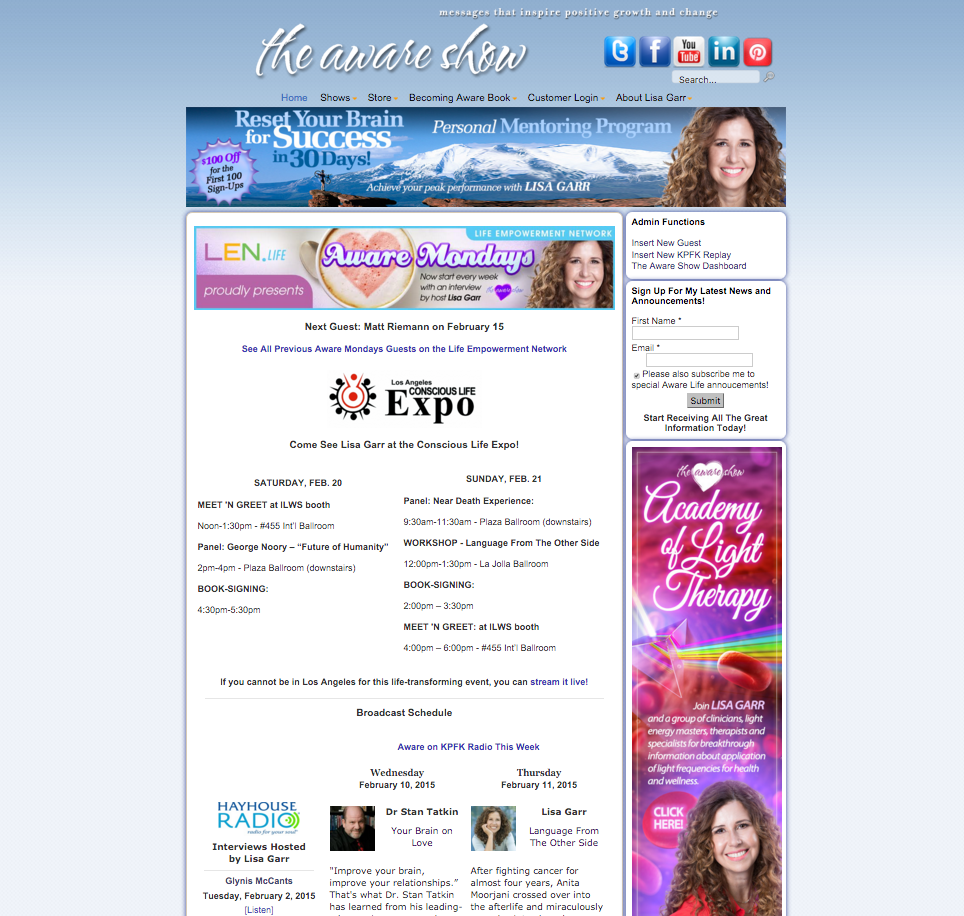 Stellar Platforms recommended a members-only community website on a dedicated WordPress installation at https://theawareshow.com/store, designed to match the look and feel of the main site, but housing the media files separately on Amazon S3. We used a series of sophisticated database management display tools to display thousands interviews, including:
1. WooCommerce for the shopping cart
2. InfusionSoft for member protection
3. iMember 360 to integrate IFS with WP
4. Toolset by WP-Types to custom-design the database display
These four tools all worked seamlessly within the WordPress CMS, letting the team create a secure, members-only environment.
The Aware Show Website – After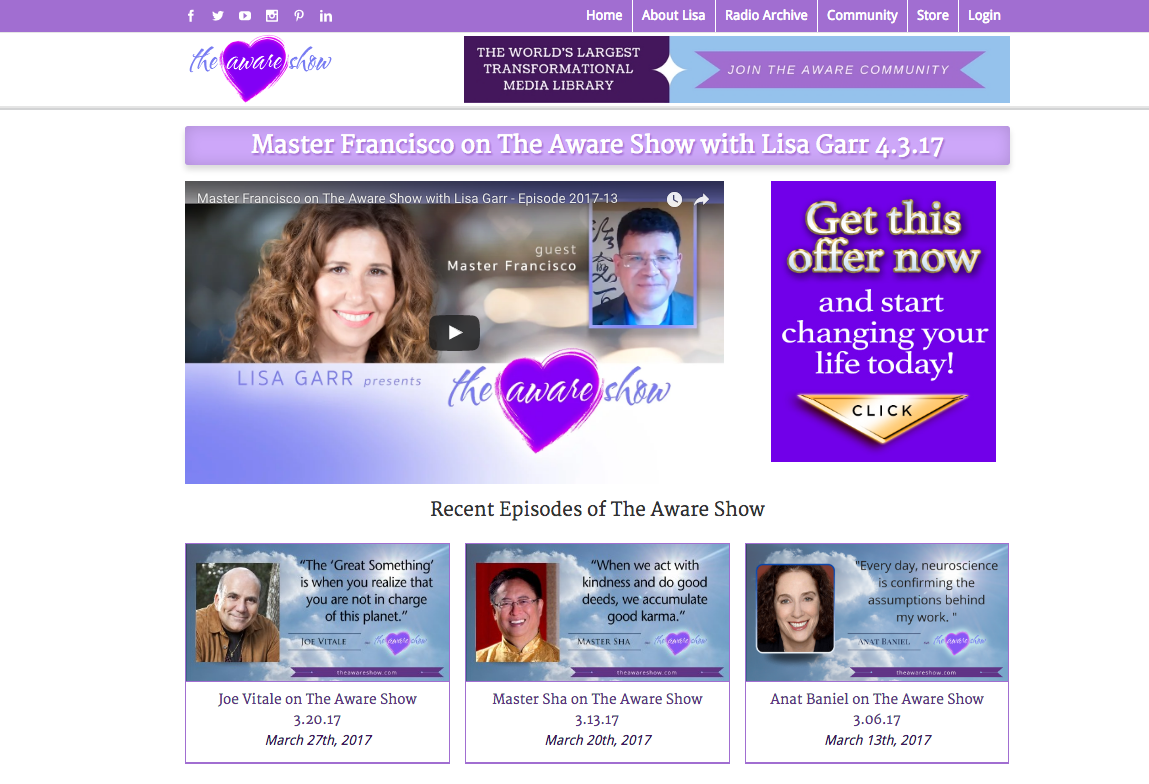 We used Toolset to design a customizable database display with both custom CSS and the native Avada theme functions. By doing so, we were able to create specialized toggles that showcased the titles, air dates, and guest names of each episode. When customers opened the toggles, viewers were able to see the multimedia player, episode description, guest headshot, and biography.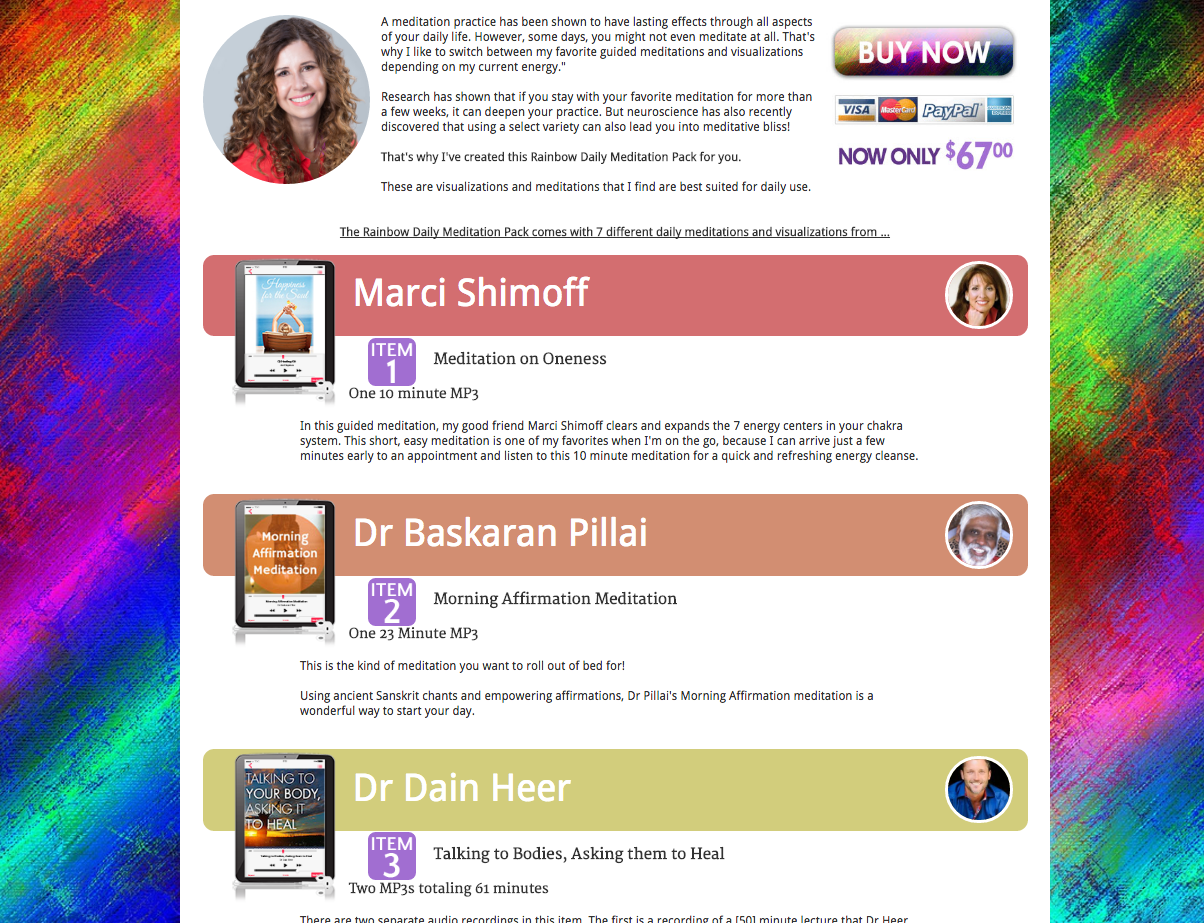 Inside the rest of this members-only website, Lisa's community members were able to see and purchase product packages, interview summit replays, and coaching courses. Once logged in, customers would only be able to view the premium content they had purchased. If they attempted to view content they had not purchased, they saw only the sales page, and the offer to buy. This encouraged users to navigate through the site to find related interesting content.
Creating a membership community solved The Aware Show's digital organization problems. By charging her viewers a monthly access fee to view her full archive of interviews, the membership community also provided Lisa with an entirely new passive revenue stream for her business.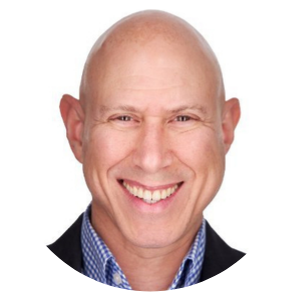 Andrew Mellen
Speaker, Coach, Trainer, and Bestselling Author
"Caelan has done a great job helping us focus in on our marketing message and building out the funnels, pages, and campaigns to drive revenue."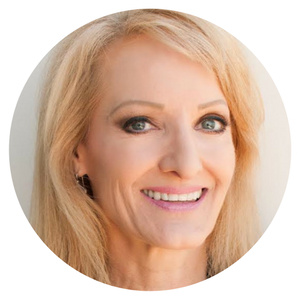 Robin Jay
President, Las Vegas Convention Speakers Bureau
"I've had many sites built over the past 10 years. This was, hands down, the best experience in regards to efficiency, design, and back-end mechanics. Caelan is easy to talk to, patient, knows what he's doing and can execute in a timely manner. It was a pleasure."

Website redesign and onboarding autoresponder
Website redesign clarifying her brand and her main offerings
7-day autoresponder series developed out of her best blog posts
Copywriting, graphic design, website design, email marketing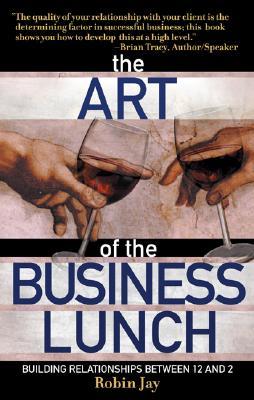 Robin Jay is a well-known public speaker and published author, and serves as President of the Las Vegas Convention Speakers Bureau. Like many content creators, she had lots of projects – as a filmmaker, a coach, a speaker and speaker's agent, but she did not have a website capable of capturing leads or promoting her brand. For all the different facets of her career, she had difficulty in clarifying her offer and her call-to-action.
Through a series of coaching sessions defining her customer avatars, we determined that the ideal email subscriber would be someone who is interested in learning how to improve their networking skills.
Using content already on her blog, we repurposed her existing content into a 7-day autoresponder series and loaded the copy into emails in Mailchimp.
Robin Jay Website – Before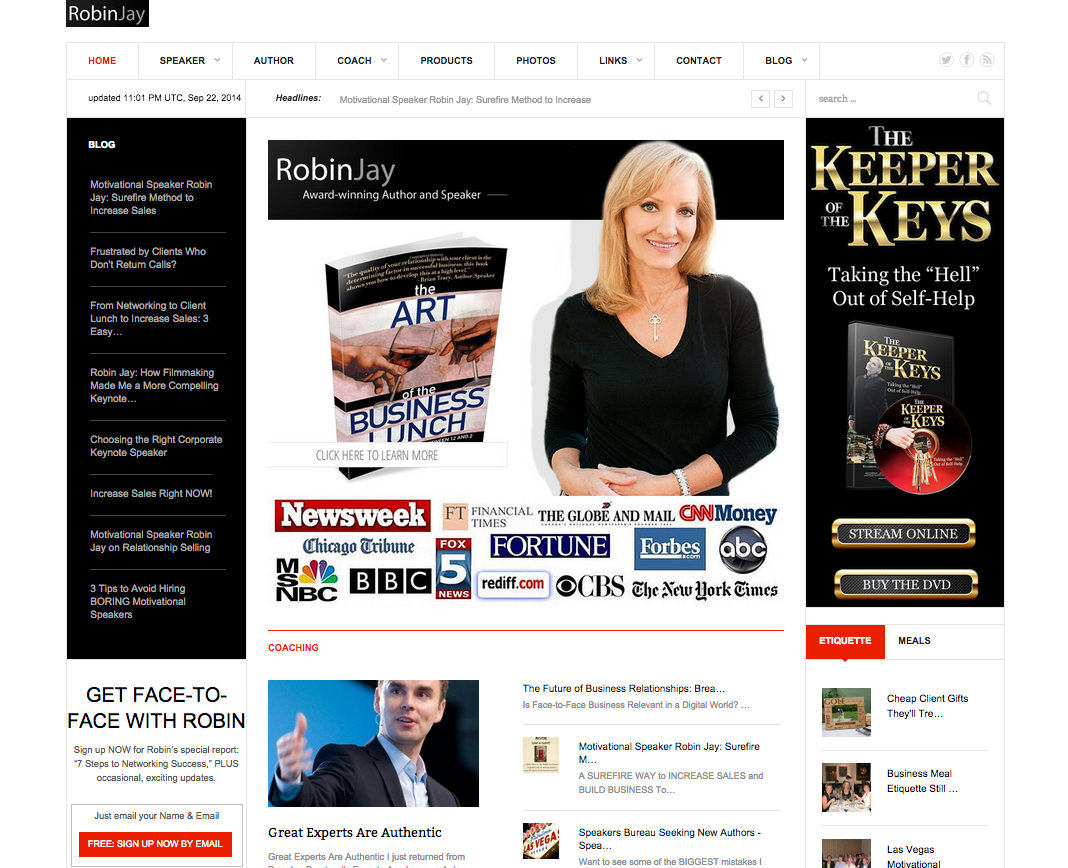 Now when people arrive on Robin Jay's website, they are immediately impressed with her credibility and her credentials. The clear navigation makes it easy for people to review her major projects, and subscribers are given a series of content that speaks to their active needs and desires.
Robin Jay Website – After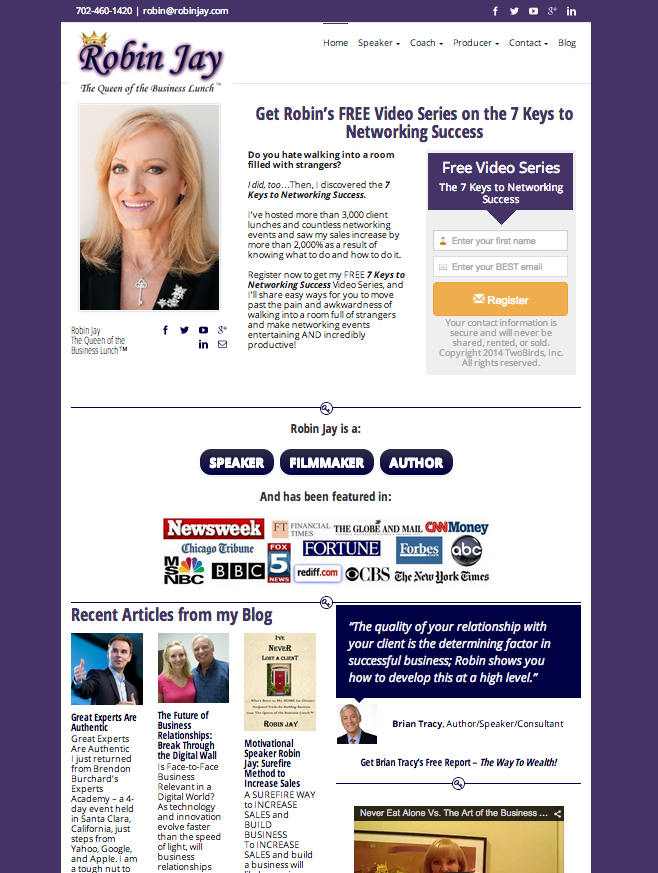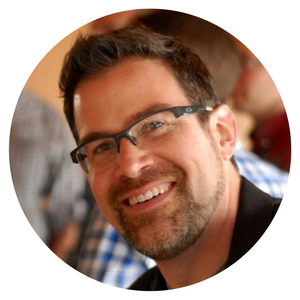 Andy Horner
Inventor, Designer, & Entrepreneur
"Caelan is a talented digital marketer who is always in beast mode – always zoned in, every pixel, every letter, every plugin, every line. He will help you discover the online success you've been hunting for."

Webinar production support, content marketing
Promote and sell online courses through webinar recordings
Migration of courses into a new LMS system
Promotion of media through content marketing
Andy Horner had a series of interviews scheduled with Jeffrey Gitomer, the legendary 'King of Sales.' The powerpoint slides Andy designed provided clear lessons on the strategy of selling, and many relied on his email marketing software, Outstand.
These interviews took a lot of time to produce, and Andy wanted to make sure his new multimedia assets would continue to provide value for their audience, well past the air date.
By providing live social media support, Stellar Platforms was able to pull out the best bite-sized ideas from the conversation. Screenshotting slides and pairing them with a quote from the speaker, these powerful nuggets of content were posted throughout the interview, so at the end there was an easy archive to reference of all the highlights, listed conveniently in the brand's Twitter account.
Using the video editing software Screenflow, Stellar Platforms recorded and edited the live webinars into short serial episodes. These episodes were then migrated to the popular online learning platform Udemy, to be sold to new students in the future.
Nine of the best webinars were collected into a series of courses on Udemy, each containing a bullet list description of the key ideas communicated in the course. After recording the interview, these two thought leaders were able to move on to other projects, while these multimedia assets continue to grow the brand and their revenue.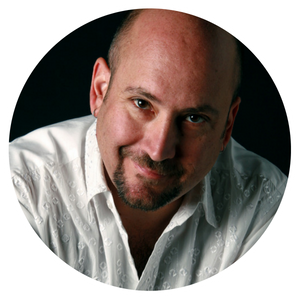 James Twyman
NYT bestselling author
"Not only was Caelan highly proficient in his professional skills, but he was also amazing to work with. His positive attitude helped make the project run smoothly and on time. I was impressed by the way he projected integrity in everything he did."

Evergreen webinar funnel with affiliate marketing
Directing and video production for webinar recording
Registration automation sequence for new signups cross-selling spotlight offer
Affiliate marketing setup for all new customers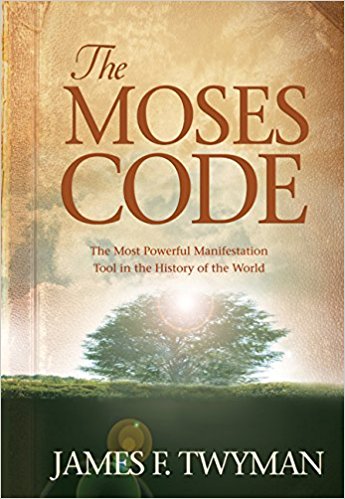 James Twyman loves to create content, and is generous with communicating to his audience. His large email newsletter list enjoys hearing his regular messages of inspiration and love.
To support these messages with a program that generates revenue, he needed a consultation with a digital marketing agency to get results. Stellar Platforms recommended leveraging the content of his bestselling book "The Moses Code" by creating a series of live webinars that could be repurposed into an evergreen sales funnel.
His frequent appearances as a public speaker enabled James to create a lot of valuable and compelling content that resonated with live audiences, but he didn't have a way to package it all together in an online course.
We collaborated on a live webinar series promoted through Facebook Ads, and repurposed the live broadcasts for automated evergreen funnels.
After planning and producing the webinars for live broadcast in Webinar Jam, we saw a flood of sales come in for James' 8 week program. This customer data was used to structure the evergreen funnels in InfusionSoft, with specific follow-up messages customised for each type of customer.
We used the Divi theme to create a simple website that collects signups and delivers a 3-day video sequence, which ends with a call-to-action to buy James' course. Every new customer is automatically made an affiliate of the program, and by sharing the program with their network, enabling some users to quickly make back their investment in the program through commissions.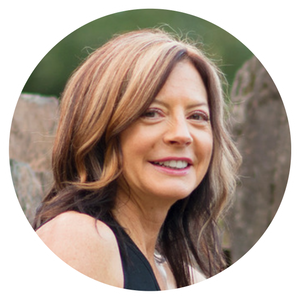 Veronica Monet
Author, Coach, and Public Speaker
"It's not easy to single out the best part of working with Caelan Huntress. Is it how deftly and swiftly he solves my technical issues? Or is it the energetic and enterprising approach he has to even the most mundane of tasks? Or might it be the fact that his creative and unique approach to his life and work bubbles under the surface in everything he does, evoking intrigue and excitement in anticipation of his next stroke of genius? What I can say with certainty is that his shooting star is one I want to hitch a ride on!"

Membership website cross-selling multiple products
Members-only content lockdown promoting membership area when viewed by non-members
Upsell of premium content on membership welcome page
Opt-in sequence overhaul and autoresponder review
Creation of multimedia archive from 200+ old mp3 interview files
Veronica Monet had a dedicated audience and a lot of content from the past few years. Her time as a radio show host was supplemented by a spree of media appearances, and she is often called upon as an expert in her field. After producing so much content, she didn't have an easy way to organize it for her dedicated fans, and they had to rely on her weekly email newsletter to know what she was working on right now. All her old podcast interviews were collecting digital dust on someone else's website.
Stellar Platforms conducted an audit of her media properties, her autoresponder sequences, and her blog articles. After tuning up her website for optimal SEO performance, we migrated her library of 200+ audio files and created a members-only archive where they can be accessed for purchase.
New subscribers are given immediate access to 3 of her best podcast episodes, as well as her 45 page ebook. Non logged-in visitors can see the podcast, but in place of the multimedia player, they only see a message to subscribe, making these podcast posts effective landing pages by themselves.
On the Welcome page, members are given access to the podcast episodes, as well as invitations to purchase deeper levels of membership in the site. For users who have purchased these upsells, the Welcome page displays their purchased content, instead of the calls-to-action to buy.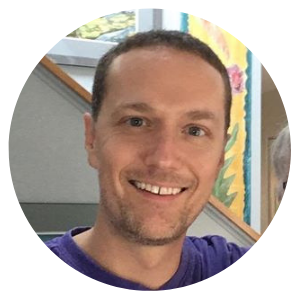 Ben Cox
CEO, Holden QiGong
"Caelan was a joy to work with. He has strong organisation skills, and I was able to relax into knowing that Caelan had the ability to produce a good result. It was better than I expected, and he was very positive throughout."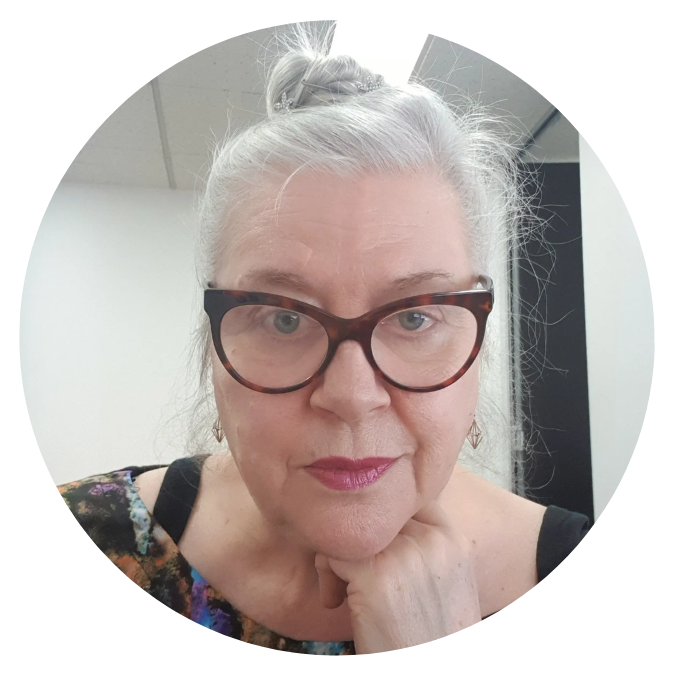 Ros Rice
Executive Director, Community Networks Aotearoa
"Caelan directed and produced our whole online conference using new technology. He was amazing, like a puppet master, making sure that everything went right, and everybody was in the right spot and nothing went wrong. It was just fantastic working with Stellar Platforms."

Virtual Conference Production
Live 2-day virtual conference with 100 attendees
Pre-conference planning, run of show, and rehearsals
Live production, livestreaming, on-site virtual usher
Community Networks Aotearoa had planned to host an in-person conference in February of 2022. Unfortunately, the New Zealand government implemented covid restrictions that prevented any large groups from meeting in person. Thankfully, they thought ahead, and hired Caelan Huntress for a half day workshop to scope out a virtual conference as fallback plan.
Back in 2021, when there were no movement or gathering restrictions in the country, we talked through the potential challenges, options, and opportunities of a virtual conference. CNA was able to put together a comprehensive plan in case a lockdown happened – which it did.
Their annual conference of community organisations was typically very interactive. This annual event brought together leaders and stakeholders from across the country. The first day of the conference was scheduled to be a collaborative brainstorming session, where participants would suggest topics of conversation, and go into smaller groups to discuss those topics. Then they would share the learnings and insights with the larger group. Zoom was not suitable for this type of engagement.
Stellar Platforms used Bramble, an interactive virtual event platform, where users could meet, congregate, and interact. Bramble is a 2D metaverse that allows users to move their Avatar from place to place, choose where they want to interact, and who they want to interact with. Instead of tediously managing Breakout rooms, users were able to move from table to table, and enter and leave conversations they wanted they found interesting according to the law of two feet.
By using the different environments available to us through Bramble, we were able to silence all attendees except for the speaker while they were in the theatre. Users could navigate their avatars into a main hall or a rooftop, to find others who they could have interesting conversations with. This mimicked the hallway interactions that we are accustomed to have in live in-person conferences. There were games and Easter Eggs hidden throughout the Bramble map, incentivising users to explore, and amplifying the curiosity.
Many of the attendees to this 2-day virtual conference were surprised at how much collaboration and connection they were able to achieve in a virtual setting. Feedback included:
"This is the most fun I've had working from home so far."
"If we have to be digital, this is totally the way we want to do it."
"I've loved the conversations that I've been able to have around the tables with people and it has truly felt like I've been in a room with them."
"I feel like I've actually had a conference."
"There is nothing like being able to be in conversation with others."
"Being able to move about interactively and still feel as though you're part of a conference has been the next best thing to actually being face-to-face with people."
In addition to producing the technical components of the conference, Caelan also served as the usher, helping to shepherd avatars from place to place. To record the event, we livestreamed to CNA's YouTube channel, so they have a video record of the 2-day experience. Here are some of the highlights:
Would you like to be one of these happy clients?
Fill out the form below, and we'll schedule a Zoom consultation.