Search Engine Optimization (SEO) is making your website easy to read by search engines. I wouldn't go so far as calling Google stupid (it is, quite likely, the largest artificial brain on the planet) but it thinks in very different ways than we do. Part of the reason Google think so differently is that it has massive amounts of data to sort through, in its unique thinking process. You can't just 'tell' something to Google. You have to spoon feed it.
SEO is how you spoon feed the search engines.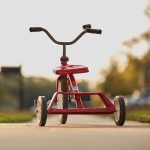 When someone is searching for red tricycles, Google will ignore a site that is dedicated to the history and development of the Radio Flyer company, with detailed specs and blueprints about the carry load on different models, if the site has no SEO. Thats why you often see annoying sites at the top of your google search titled "RED TRICYCLE WHEEL RED TRICYCLE PEDALS SEATS NOW."
That website spoon fed to Google everything that the site was about. Google ate it up.
Here's how you can do it:
Easy Search Engine Optimization Tips
Get bold. When you bold a word, Google assumes there is more importance about it.
Find the keys to your words. A 'keyword' is a word that people use to search for your subject. Pepper your content with keywords that people will use to find them, and then – use them on your headings.
Make Headings. Keywords in the headings of your content (h2 and h3 tags) are seen by search engines as especially important. You can write your post with keyword research first, headings second, and content third.
Alt your images. Put your keywords into the Alt Text of your images – Google can't read your image, but it can read your alt text. (My tricycle up above – hover over the image with your mouse to see what it says.)
Get backlinked. When someone else on another website links to your site, Google thinks you have valuable content, too, and you're not just screaming your head off in the wilderness. Some search engine optimizations specialists make their living just on backlinks. (Be careful, though…many of them wear black hats.)
Get deeplinks. Don't just link to your homepage. Link to sub-pages, or specific posts. It shows that you have a wealth of information all over your site, not just a good homepage.
Trade content. Those other websites that do what you do? Or do something tangentially related to what you do? They like SEO, too. Guest post on each other's blogs, and link back to each other.
Get shared. There are fantastic, automated plugins you can use to allow readers to share your content with the click of a button. Use them, so your content can be used by others.
Tag your pages. Not with graffiti, but with meta tags, alt tags, and other techie stuff that should be easy if you've got search engine optimization plugins like Yoast or All-In-One SEO pack on your WordPress-powered website.
Don't be dense. For a while, 'keyword density' was sooooo important that thousands of websites repeated their keywords every keyword other keyword word in their keyword article. Google is not stupid. (Biggest brain on the planet.) Their algorithm was modified, and now frowns on sites that attempt to spoon-feed it garbage.
Do some research. Use Google's own free keyword planning tool to find out how people are searching for sites like yours, and write new and interesting content about those subjects.
Get friendly. Do an unexpected favor for other website owners in your sphere. Comment on their blogs. Participate in their conversations. You will find them returning the favor, because we all like to have friends.
"Caelan has done a phenomenal job on our SEO. We are the number one site that comes up in our area for any alternative health related search. We are also coming up on the first page of results for conventional medical searches! We love Caelan and his thoughtful, conscientious work on the design and the SEO of our site, thanks Caelan!"