The Four Cornerstones of a Stellar Platform
For public speakers, authors, coaches, creatives, and thought leaders who want to make a living from their teachings
How can a thought leader make a good living by spreading a message?
It is totally possible. I've helped dozens of successful thought leaders set up their platforms, and I've been privileged to optimize some of the successful platforms that support 6 and 7 figure businesses.
Over the years, I've worked with many high-end coaches, dynamic public speakers, and New York Times-bestselling authors. Some of these luminaries have an online business that supports their lifestyle, giving them the time and flexibility to create their works. These successful authors, public speakers, and business coaches, they all have something in common.
They have a platform that helps them to shine.
Without a platform that automatically builds their audience, sells their books, and delivers their online products, none of these people would have time to do what they love most. Writing. Speaking to audiences. Fashioning their ideas into tools that can change the world.
If they had to spend all their time managing their website, or managing a team to manage their website, they wouldn't have the time for thought leadership, ideation, and creativity that is the very craft of the modern illuminator.
The most successful thought leaders have a simple system that converts. Automatically.
With so many different platforms and tools available for running an online business, it's hard to know what to do next. You can spend a lot of time wasting your energy just trying to figure things out – or, you can hire professionals to make your platform for you, and make it right.
Stellar Platforms clients have an automated system for collecting new fans, and a pre-designed process for converting those fans into customers. Their existing body of work is converted into online courses and free giveaways that build their list, expand their reach, and encourage the right kinds of people to dive deeply into their products.
The Stellar Platforms model relies on four cornerstones:
Cornerstone 1: Customer Avatars
Who are the right people for you to target?
Having a set of defined buyer personas enables you to tailor your communications to the right kind of person. You can discourage the wrong kinds of people, and welcome the best kinds of customers, by defining the avatar that is most likely to bring you business and become a repeat customer.
Cornerstone 2: Sales Funnel
How does a stranger become your customer?
The progression of your customer's journey can be smooth and seamless, if it is optimized and well-defined. When you lay out every stage of your sales funnel, you can identify the transition points between every stage. Once you know what those transition points are, you know what to optimize for better conversion and more revenue.
Cornerstone 3: Content Marketing
Where should you pollinate your message?
A comprehensive content marketing plan helps you know what to send, when to send it, and which channels to send it through. All that you have to do is create, and your content marketing plan slices and dices your ideas into bite-sized tweets and posts and newsletters automatically.
Cornerstone 4: eCommerce
How do you make money through your website?
If you have enough existing content that can be turned into an online course, selling your teachings online can be passive and profitable. Every time you create a new piece of content, this can become a new product in your store, passively earning you money for your ideas.
Cornerstones make Stellar Platforms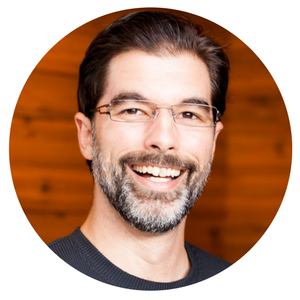 Caelan Huntress
Creative Director
I'm the Creative Director of Stellar Platforms, and I have worked with dozens of New York Times bestselling authors on their digital infrastructure. After being trained as a salesman, actor, and journalist, I became a digital producer when I decided to move my family to Costa Rica, and ran a successful website design business there for three years. My sales training naturally led me into designing sales pages, and my theatrical training enabled me to connect emotionally to an audience online, while my journalism background helping me to create compelling content that converts.
My most successful clients are the authors, coaches, and public speakers that have a message to share, an audience demographic that connects with them, and enough content to convert into an online course.
"I've had many sites built over the past 10 years. This was, hands down, the best experience in regards to efficiency, design, and back-end mechanics. Caelan is easy to talk to, patient, knows what he's doing and can execute in a timely manner. It was a pleasure."
For thought leaders who want to make a living from their teachings, Stellar Platforms is the digital marketing agency that creates a revenue-generating business to sustain their ability to create their work.
How We Build Your Platform
You select one or more of our Cornerstones – Customer Avatars, Sales Funnel, Content Marketing, or eCommerce – and after a half-day deep-dive coaching session, we will create this cornerstone of your platform.
If you have additional work on your digital infrastructure – website design, copywriting, graphics, or strategy – we can handle that on a case-by-case basis.
Our core offerings, the Cornerstones, are built to create a sound business for you that lasts for years. If you order one of these Cornerstones by July 15, you will be able to begin work on your Cornerstone this summer. After July 15, all new clients must wait until September to get started.
The price of each cornerstone is different:
Total cost of all four cornerstones: $8000.
This is a fraction of what your digital platform can generate for you over the next five years. It is an investment in the long-term profitability of your business. Here's what some happy clients have to say about working with Stellar Platforms:
"Caelan  works really well with visionaries – I speak it, and he makes it happen! His website design for The Aware Show really captured my personality, and his project management skills kept my entire team on track. The beautiful summits he put together helped us to grow our list and expand our audience. Caelan is always positive and keeps a positive outlook on life!"
"I hired Caelan to help me migrate to Infusionsoft and strategize on marketing campaigns. He was a super hero and saved me a ton of suffering with the software, which now works perfectly. He was easy to work with and a very high executer. I can rely on Caelan to do exactly what needs to get done."
"Caelan is a talented digital marketer who is always in beast mode – always zoned in, every pixel, every letter, every plugin, every line.
He will help you discover the online success you've been hunting for."
If you are going to be writing, speaking, and spreading your ideas anyway, the longer you put off making your platform, the longer it will take before you can start passively making a profit from your teachings.
This is the easiest way for authors to make a living, and preserve their time and energy for creation:
create the digital infrastructure that supports your lifestyle.
Interested? Let's have a 30 minute phone consultation.