There are so many social media platforms out there, it can be a challenge to launch your brand-new-brand everywhere across the internet at once. Social Media Setup can be difficult without an easy map. What's the difference between all these social media platforms? Mark Chandler was good enough to describe the difference – using donuts.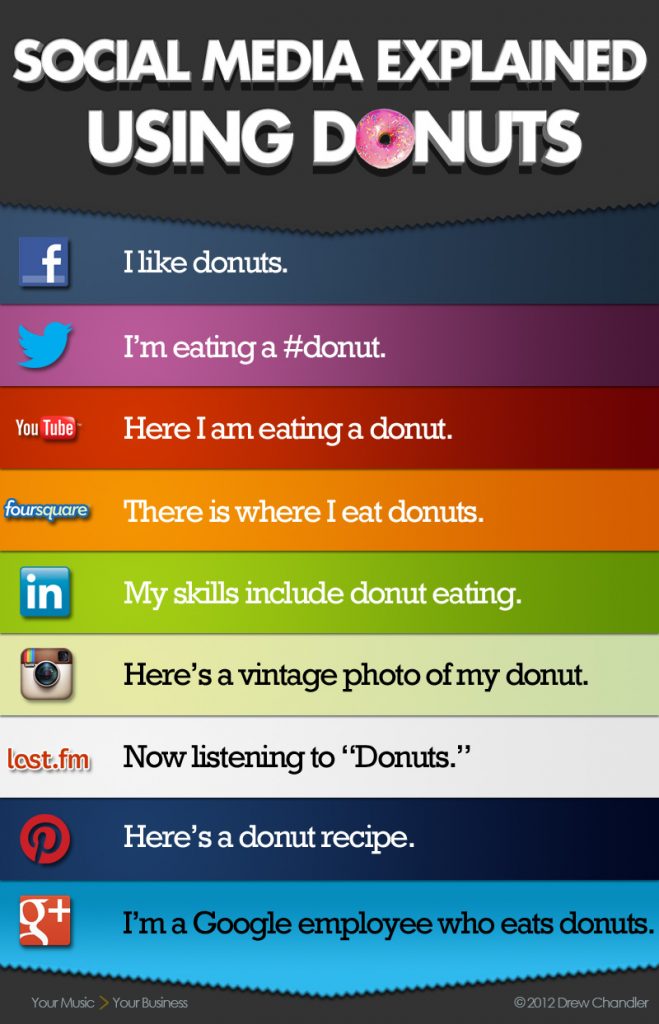 Getting a donut onto all of these platforms can seem like a real chore. But don't worry – you can set up social media accounts for your business in an afternoon, if you have a good social media checklist, your logo files, a pre-written bio, and a good tutorial.
How To Set Up Social Media Accounts for a Business
Social Media Setup Tip 1:
Use the same login credentials for all of your social media accounts.
Using the same email address and password for all of your new accounts will make it easy to set up (and manage) your social media accounts.
If you create a new email address just for this purpose, like [email protected], then you can even hand off logins for these accounts to someone else securely in the future.
Social Media Setup Tip 2:
Set up all social media accounts in one sitting.
Set aside an hour or two with this tutorial, and give yourself the time and space to do it right, and do it once.
Having multiple browser tabs will make this easy. To use multiple tabs, Ctrl + Click on a link and it will open in a new tab. If you press Cmd + T on a Mac, or Ctrl + T on a PC, you will open a new tab where you can manually type your URL.
Social Media Setup Tip 3:
Use an Incognito browser for setting up your business social media accounts.
If you already have other social media accounts, or a gmail address, then do yourself a favor and use an incognito browser to start fresh. This way, you won't accidentally login to the wrong account, and connect them in a confusing way.
Using an incognito browser doesn't make your activity invisible, however. As Heather Parry writes, "Chrome's 'Incognito' might stop Chrome itself from logging your browsing data, but it doesn't stop your operating system, your router, or the websites themselves from logging that you're there. When streaming content, whether you're in 'Incognito' mode or not, you open yourself up to data storing, and this mode does not hide your IP address, meaning that information such as your location, your browser, your operating system and even your physical address might still be seen."
This means that going Incognito does not completely shield your activity, but it does give you the same browsing experience as if you were signed out of all your accounts.
How To Go Into Incognito Mode In Your Browser:
Press Cmd + Shift + N on a Mac, or Ctrl + Shift + N on a PC.
Use our Social Media Checklist to set up your new social media accounts
If you'd like Stellar Platforms to set up your social media accounts for you, we can do that. If you want to do it yourself, we can give you a video tutorial and a step-by-step guide to handle it yourself in an afternoon.
Read the Social Media Setup Checklist