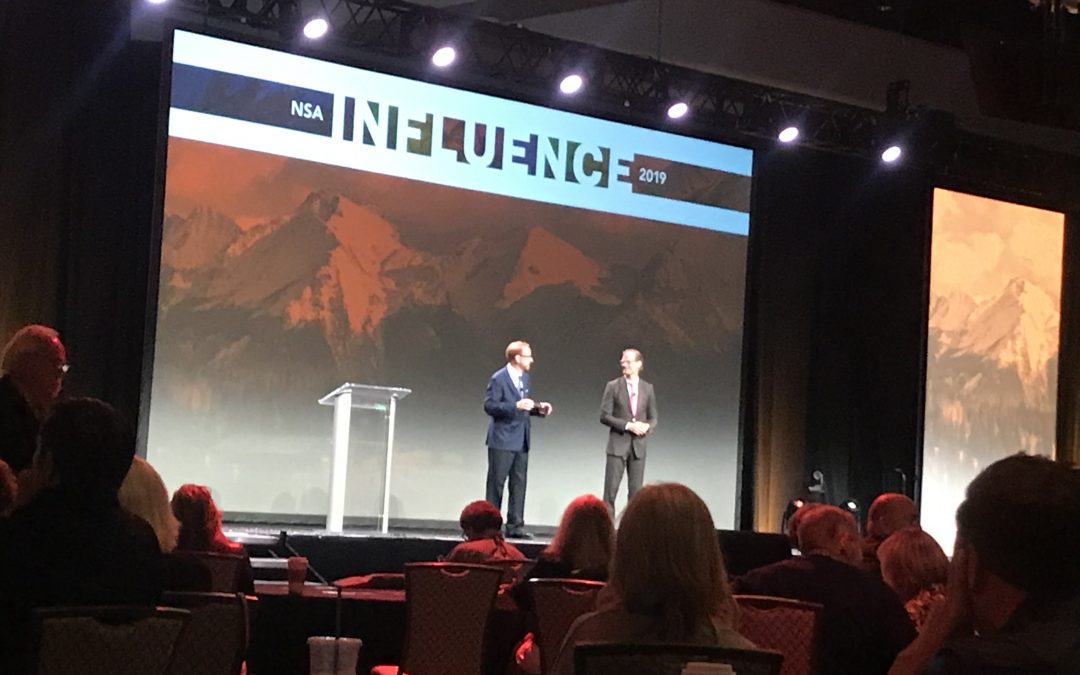 I did not plan on attending the National Speakers' Association annual conference in Denver, #Influence19. But opportunity knocked, so I went through the door.
Just another weekly client call
One of my clients happened to be the co-chair for this year's NSA conference. Mike Rayburn is the world's funniest motivational comedian who plays guitar and talks, and we've been working together for more than a year.
At the end of our weekly marketing call, after we had discussed some new web page designs, and he showed me the printed brochure I had designed to promote his online course, the What IF? Challenge, I asked him, "How's the conference coming?"
That's when he told me, "I had a presenter break her kneecap, and I don't know how I'm going to replace her on such short notice."
"What's her topic?" I asked.
"Monetizing Your Thought Leadership. I don't know anyone else who speaks on that topic, and you're in New Zealand."
"What if…" I asked, because I've been steeped in his innovation and creative thinking material for a while, "What if I hopped on a plane tomorrow?"
"If you fly up to Denver from New Zealand, the spot is yours."
Making the trip to the US
I made 10 videos on this trip, roughly 1 per day. You can watch them in the playlist above.
I write a lot more about the cultural shock of coming back into America in a separate post on my personal blog; many of the stories overlap, so in this post, I'll stick to the professional aspects of my trip.
Presenting at the NSA conference #influence19
Monday 10:30AM #Influence19 – I'll be presenting
'7 Steps
To Turn Your
Signature Speech
Into A Signature Offer'
Cottonwood 8/9, replacing
'How To Monetize Thought Leadership,'
by Katrina, Burrus, PhDhttps://t.co/A8DxFsfDZa pic.twitter.com/K6dmbM2taD

— Caelan Huntress (@caelanhuntress) July 29, 2019
I only had 3 days to put this talk together, but thankfully, I had a template slide deck ready, and I've also got a deep background in performance and improvisation. That helped frame my expertise quickly, and the topic is the sort of thing I work on all the time with my clients.
"Without a doubt one of the one of the most worthwhile conference sessions I have ever attended. Thank You!"

– email I received the next morning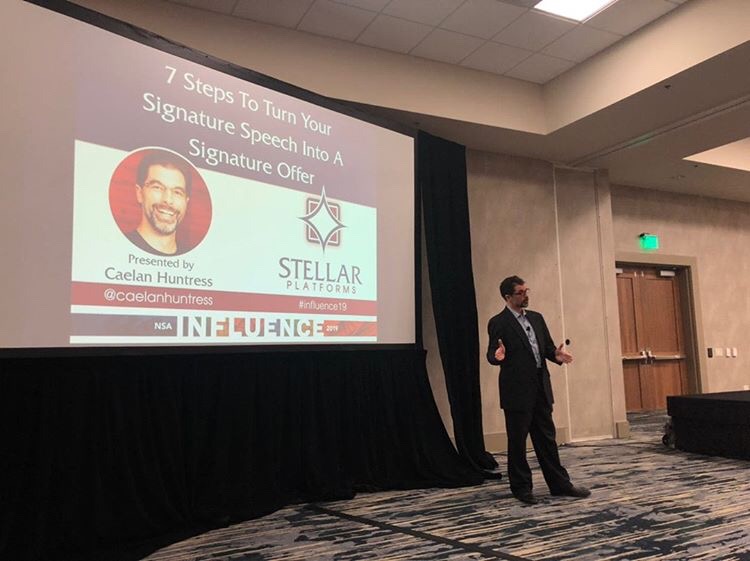 The whole '7-Steps to Turn Your Signature Speech Into a Signature Offer' idea was brand new, but I had a long flight to work on it. The slides came out good, and I got to pilot some new IP that I've been working on, about the 4 levels of a Platform, and how the Cornerstones balance each other.
This new content forms the backbone for my new 90-day program, so it was good to see it getting some traction before a live audience.
One of the case studies in my presentation was Peter Cook, of the Thought Leaders Business School. I told him while I was flying across the Pacific that I was going to talk at the NSA conference, and feature him as a case study. But, I forgot my book! The Thought Leaders Practice is the best business book I've read in 2019. (Read my Book Review here.)
Peter offered to send 20 copies of the book to members of my audience who emailed him with something special in the subject line. So I told my session, at the beginning, 'There will be prizes!'
After featuring Peter as a case study, and describing how his 4 signature offers match the 4 Offer Brackets, I offered a printed copy of his book to the first 20 people to email him with 'NSA USA' in the subject line, and send him their shipping address. 'Get out your phones, everybody!' I said, and assured them that if they weren't one of the first 20, they would still get a PDF of the book.
60 people emailed him from my session, and as I hoped, the Thought Leaders methodology is spreading to more thought leaders in America.
Meeting clients in person
There were a number of current and former clients of Stellar Platforms who were attending this conference. I've made it my business to focus on authors, coaches, and speakers exclusively for a number of years, and I was lucky enough to finally meet a lot of old friends in person, and meet some new friends, as well.
Hugs and old friendships
One of the things I liked so much about attending the NSA conference was seeing all the hugs in the hallway. Old friends that had not seen each other for years would reconnect, and hug, and laugh, all the time.
It was such a commonplace occurrence that I was convinced that the longevity of this community was part of the reason people returned year after year. It's a good community of nice and successful people, and I see why people remain so close to this community for decades.
Here are some pictures of me with my new friends:
Marvellless Mark

Leah Dale and Helen Holton

Dr Jeff Magee

Cathy Johnson

Sylvie DiGiusto

Lori Pace

Marcus Bell

Michelle Joyce

Pam Fox Rollin

Ricardo Vargas

Sally Spencer Thomas

Michelle Joyce

Shasta Nelson

Will Rogers

Marc Pitman

Steve Spangler

Michelle Villalobos and Steve Napolitano

Pam Fox Rollin

Steve Nap & Orlando Bowen

Daveeed Wagner

W Mitchell
Your heroes become your friends
I was sitting in on one of my favourite sessions of the week, expert webinar sales trainer David Newman's presentation 'Webinar Sales Mastery,' when he commented about how his membership in this community has affected him. "One of the best things about being an NSA member for so long," he said, "is that your heroes become your friends."
I could see this demonstrated immediately afterward, when he said, "I've never had the experience of giving a presentation with Patricia Fripp taking notes in the front row, and I am freaking out right now!"
This got a good laugh, and a good photo. I was also in the front row, and I leaned out to the side to take a photo of the two of them, and posted it on LinkedIn.
After the session, I found myself walking next to sales legend Patricia Fripp, and I introduced myself to her as I said, "We met a few years ago, I saw you give a presentation to the Oregon NSA chapter."
"That's a very nice chapter you have," she said off-handedly.
"I really like Fripp VT," I continued. "The tech behind your business communications training LMS is really solid."
"Thank you, it's nice," she said as she looked through the crowd ahead of us. I realized she got these sorts of random compliments from strangers often, and she probably assumed I was starstruck.
Just then Mike Rayburn walked over, and Patricia tried to get his attention. "Oh, hi Patricia," he said, and then he started talking to me about an idea he had.
While we were talking together animatedly, Patricia was waiting to get a word in edgewise, and then Hall of Fame sales and leadership keynote speaker Connie Podesta came over and said "CAELAN!" and we hugged, since this was our first time meeting one another in person.
I think it was then that Patricia realized that I wasn't just a starstruck fanboy, and I was quite gratified when I received a LinkedIn connection request from her later.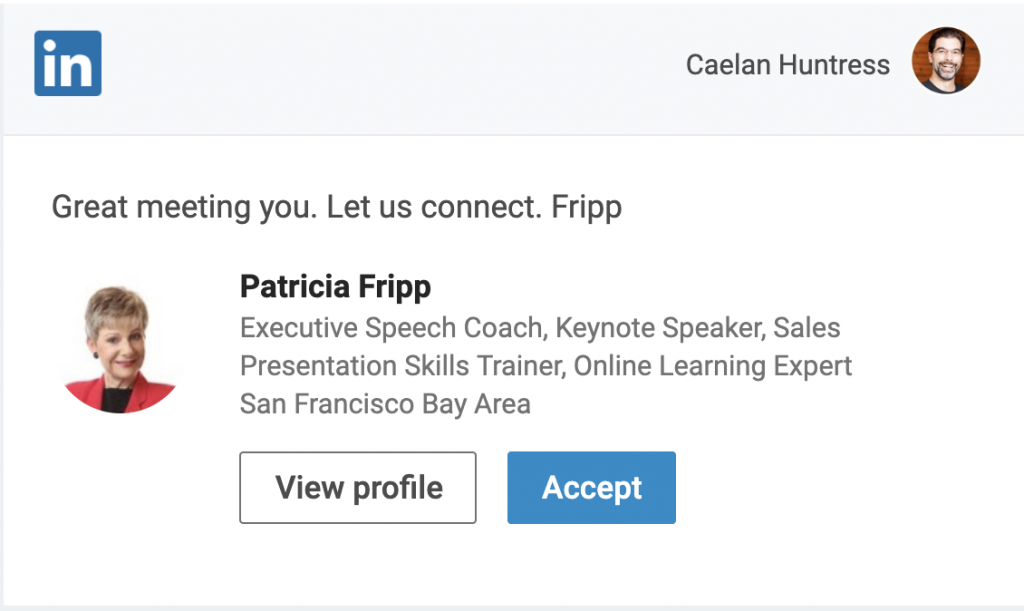 As David Newman predicted, your heroes do indeed become your friends.
NSA and Selling from the Stage
I went on a side project during #Influence19, to discover the official position of NSA on selling from the stage.
One of my clients (who was not present at the conference) told me once, "I'm a CSP, so I cannot sell from the stage." A CSP (Certified Speaking Professional) earns this designation from the NSA and agrees to abide by a series of ethical obligations. When he told me this was his position, I was surprised.
Also surprised: many professional speakers at the conference. "Who told him that?" one Hall-of-Fame speaker said. "That's true at NSA events, but not when you're talking for clients," another CPAE said. "You can sell at NSA chapter events, but not if you're taking a fee," said another CSP.
I was fascinated, because everyone I talked with had a different answer.
So I started asking everyone, "What's the official position of NSA on selling from the stage?"
Eventually, I found myself eating lunch with a table full of older and semi-retired speakers.
(Pro tip: when you go to a conference, start conversations with your elders. They have the best insight, and they make the best conversation.)
I posed my question to Barry Banther, who has been around the NSA for a long time, and has served in many leadership positions over the years. During our conversation, he gave me the best and the clearest answer.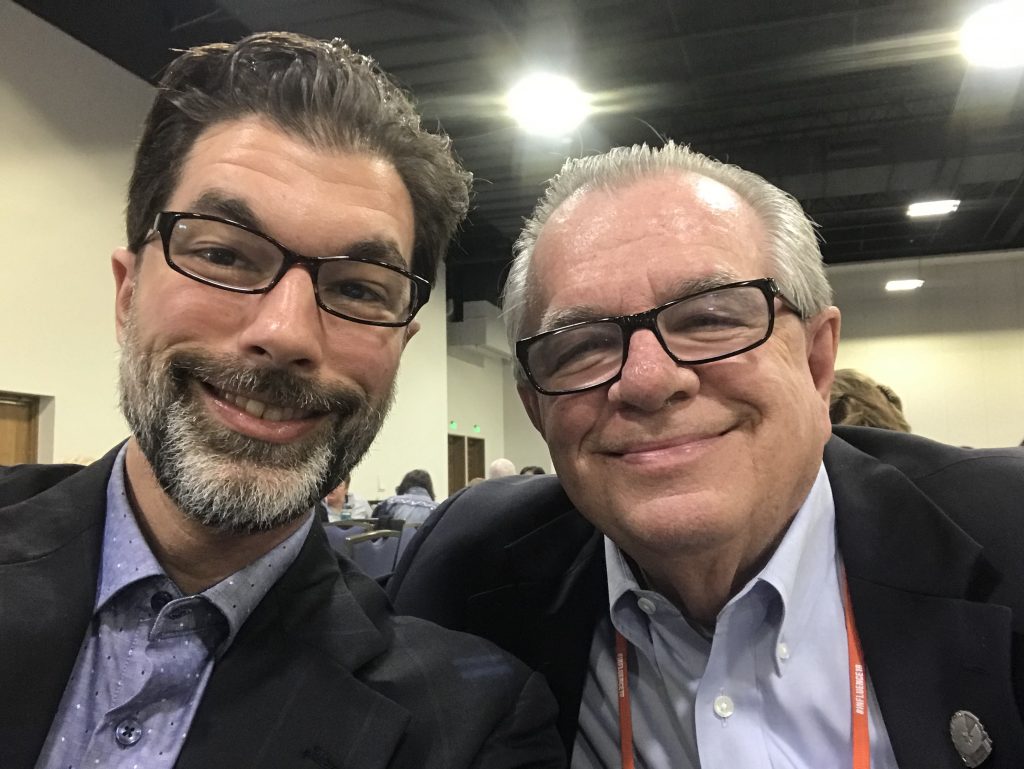 "We don't permit selling from the stage at our events," he said, "and anything else is up to the speaker, as long as it's ethical."
This, I realized, was why every speaker had been giving me a different answer: they were all interpreting the question according to their own personal ethics. Nobody gave me an answer that was unethical, but they were all different, because everyone sees the ethics of this question differently.
New Hall of Fame speakers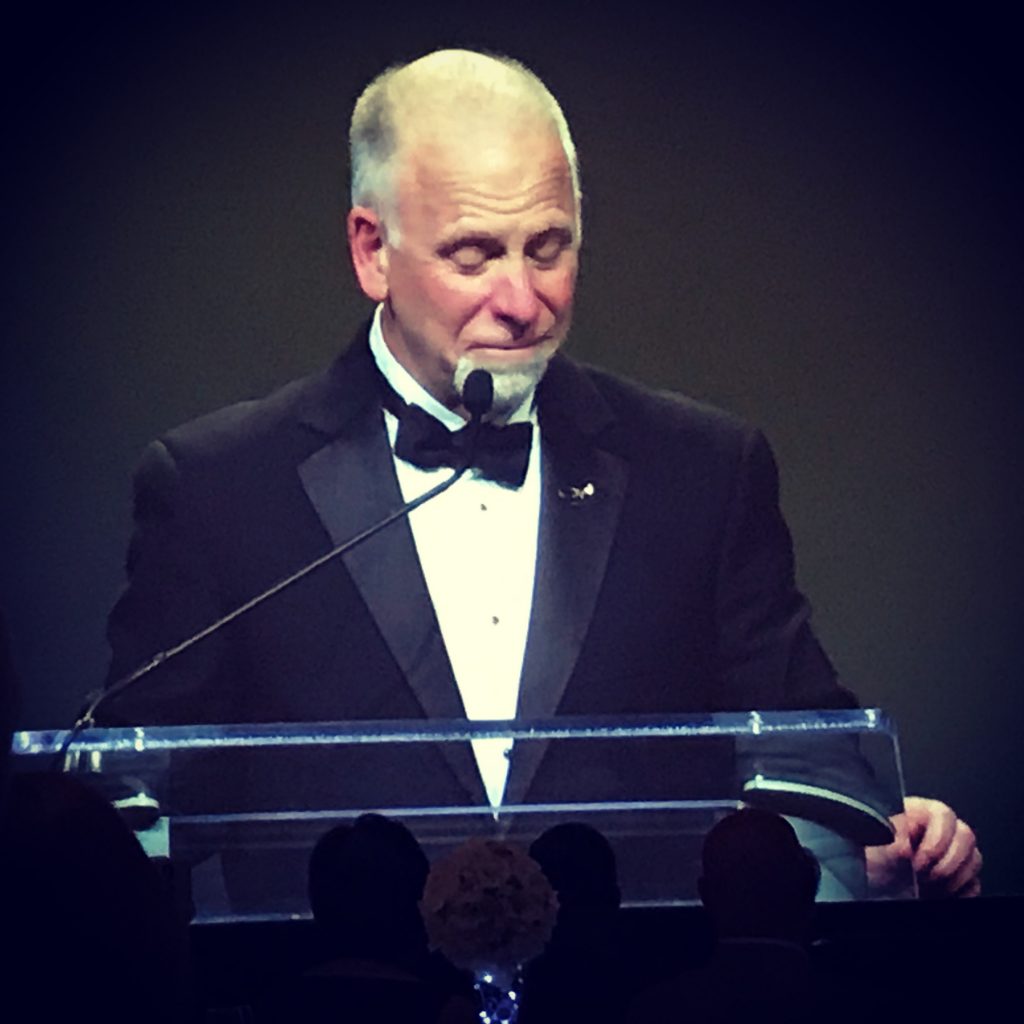 There were three new inductees into the Speakers Hall of Fame this year:
There was also a special recipient of the Cavett Award, an honor bestowed once a year to "the member whose accomplishments over the years have reflected outstanding credit, respect, honor and admiration in the Association and the speaking profession, and whose actions (in terms of sharing, guiding and inspiring other members) most closely parallel the illustrious career of NSA Co-Founder Cavett Robert, CSP, CPAE."
When Phillip Van Hooser was awarded this honor, it was amazing to see a professional speaker so lost for words at the podium.
Jason Hewlett shaves his beard
One of my fave performances was Elton John impersonator Jason Hewlett for more than his early-to-late-stage impressions, but because he shaved his beard onstage.
Shaving a beard, by itself, is not anything that momentous. But it's a rare enough action that with the proper introduction, it can be a momentous occasion.
Watch Jason Hewlett shave his beard on YouTube or read his story here.
Mike Rayburn brings down the house
One of the best parts about having a rock star for a client is he really knows how to end a party.
Inviting up many of his friends and colleagues, Mike Rayburn led the NSA closing party in a jam session that was just what I needed after a long conference: an opportunity to dance the night away.
All in all, this trip was a big win.
I had to postpone the launch of my new group program, the 90-Day Profit Accelerator, but I was able to finish up the sales page on the plane back to New Zealand.
Now I'm back in the winter, and I'm planning to help a dozen thought leaders elevate their platform in Q4. If you'd like to learn more about my program, you can click here to learn about the 90-Day Profit Accelerator.